Ellisville Acupuncture Chiropractor Reduces
Back Pain and Headaches

We want to encourage anyone out there who has been curious about this ancient Asian medical practice, but has been hesitant to try it, to consider the following: Patients who have had acupuncture from our highly-trained acupuncturist, resoundingly report that it relieves pain. When administered by a skilled practitioner, the patient should feel no discomfort from the needles; in fact, they can help people heal from back pain, headaches, neck pain, sciatica, sports injury, whiplash, plantar fasciitis, and more.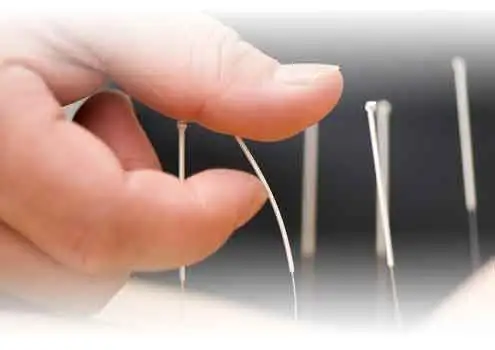 In addition to being an experienced Ellisville chiropractor, Dr. Leonard Suiter is also a certified acupuncturist who has helped many patients find pain relief they had failed to find through a strictly Western medicinal approach. He has been able to help patients here and in Ballwin, Wildwood, Chesterfield, Manchester, Valley Park, Winchester, and Twin Oaks discover relief through this Eastern healing method.


Ellisville Chiropractic Clinic Offers Acupuncture
for Pain Relief and Wellness
Acupuncture's
roots are ancient, stretching back to China at least 5,000 years! People across Asia still use it today to treat almost every imaginable health issue. Everything from
headaches
, back pain, neck pain, and
sciatica
to wellness issues, such as quitting smoking and other addictions, are very commonly treated this way. Dr. Suiter, our
Ellisville acupuncture chiropractor
, has trained extensively so he can offer this treatment, in addition to chiropractic therapies, to patients who may benefit from its healing and pain relieving effects.
This form of therapy stems from Traditional Chinese Medicine (TCM), which asserts that all illness arises from imbalances in a person's life. Xi (pronounced "chee"), the body's natural flow of energy, is interrupted by the imbalances, very similarly to how nerves become pinched when the spine is misaligned, which is the traditional chiropractic point of view. The goal of TCM is rebalancing the patient's energy flow to enable the body to heal itself naturally. TCM also seeks the root cause of an illness, rather than just treating isolated symptoms. In this way, chiropractic care and TCM work together to restore a patient's health and relieve pain holistically.
When patients come into our office seeking help with back pain or
headaches
, for example, Dr. Suiter spends a lot of time just getting to know the person first. He wants to understand the root cause of the ailment, and not just treat the symptoms. He needs to ask many questions about the patient's lifestyle and health before administering any treatment. No two patients, even with the same symptoms, will be suffering from exactly the same root cause of pain.
As a result, our
Ellisville chiropractor
tailors treatments to each individual so that he can help alleviate pain, strengthen the immune system, and refresh the body's energy and balance, ensuring that all organs and systems are working together properly. The end goal is not just
pain relief
but balanced and energized overall health.
Please call your
Ellisville chiropractor
today at 636-227-4378 to learn more about how these natural, effective treatment systems can help!