Ellisville Chiropractic Care for Car Accident Injury and Personal Injuries
You may have known the second your car was hit or you fell off that ladder that you were in trouble or you may have walked away feeling fine only to experience
back pain
, neck pain, headaches and other symptoms weeks later.
Car accident injury
and
personal injuries
can throw your entire skeletal structure out of alignment, causing agonizing pain and restricting your range of motion. But, instead of resorting to an invasive surgical procedure, consider instead what our qualified chiropractor at our Ellisville chiropractic center can do for your condition.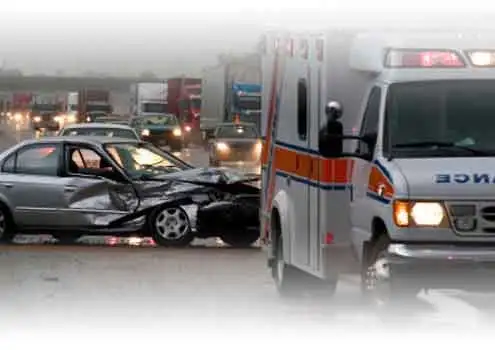 Ellisville Car Accident Injury and Whiplash
Car accident injury
need not resemble the violent crashes we see in the movies to have serious physical consequences for occupants. A
car accident injury
can occur even when both vehicles are moving relatively slowly. Even a small car can apply enough force to the back of the car in front of it, for instance, to jolt the driver of the impacted vehicle forward and then backward in his seat. This violent motion can cause a misalignment in the vertebrae of the neck, causing the neck pain and loss of function typical of
whiplash
.
But
whiplash
is only one possible consequence of a
car accident injury
. The injured party may also suffer headaches, back pain or leg pain as a result of nerve pressure from spinal misalignments. The leg pain occurs as a symptom of sciatica, an impingement of the sciatic nerve that runs from the spine down into the legs. In many cases seat belts contribute to spinal misalignments by restricting part of the body during an impact. These symptoms do not necessarily appear immediately, however, which is why you should always see our
Ellisville chiropractor
to make sure you are uninjured.
Back Pain and Sciatica Caused by Personal Injuries
A
personal injury
can occur anywhere and create just as much misery as an auto-related injury. For example, lifting a heavy object while bending over it frequently leads to agonizing back pain from spinal misalignments. Jumping or falling off of a ladder can jolt the spinal column and cause disc damage and alignment problems. Even standing up from a sitting position or remaining in a seated position too long can impinge the sciatic nerve and cause the shooting pains associated with sciatica. Fortunately all of these injuries and the
headaches
and other side effects they trigger respond well to chiropractic treatment.
Relief for Back Pain, Headaches and Injuries
If you live in the
Ellisville
area and suffer from any of these conditions, the good news is that we can help you here at Ellisville-Suiter Chiropractic Center. Dr. Suiter, our
Ellisville chiropractor
, can perform adjustments to gently shift your vertebrae back into their correct position, releasing impinged nerves, relieving your pain and allowing your body to heal naturally. And, once you have recovered, you can come to us for regular checkups and ongoing wellness care to make sure you remain as healthy as possible, injury or no injury. Contact our
Ellisville chiropractic
office today at 636-227-4378 to arrange an appointment.